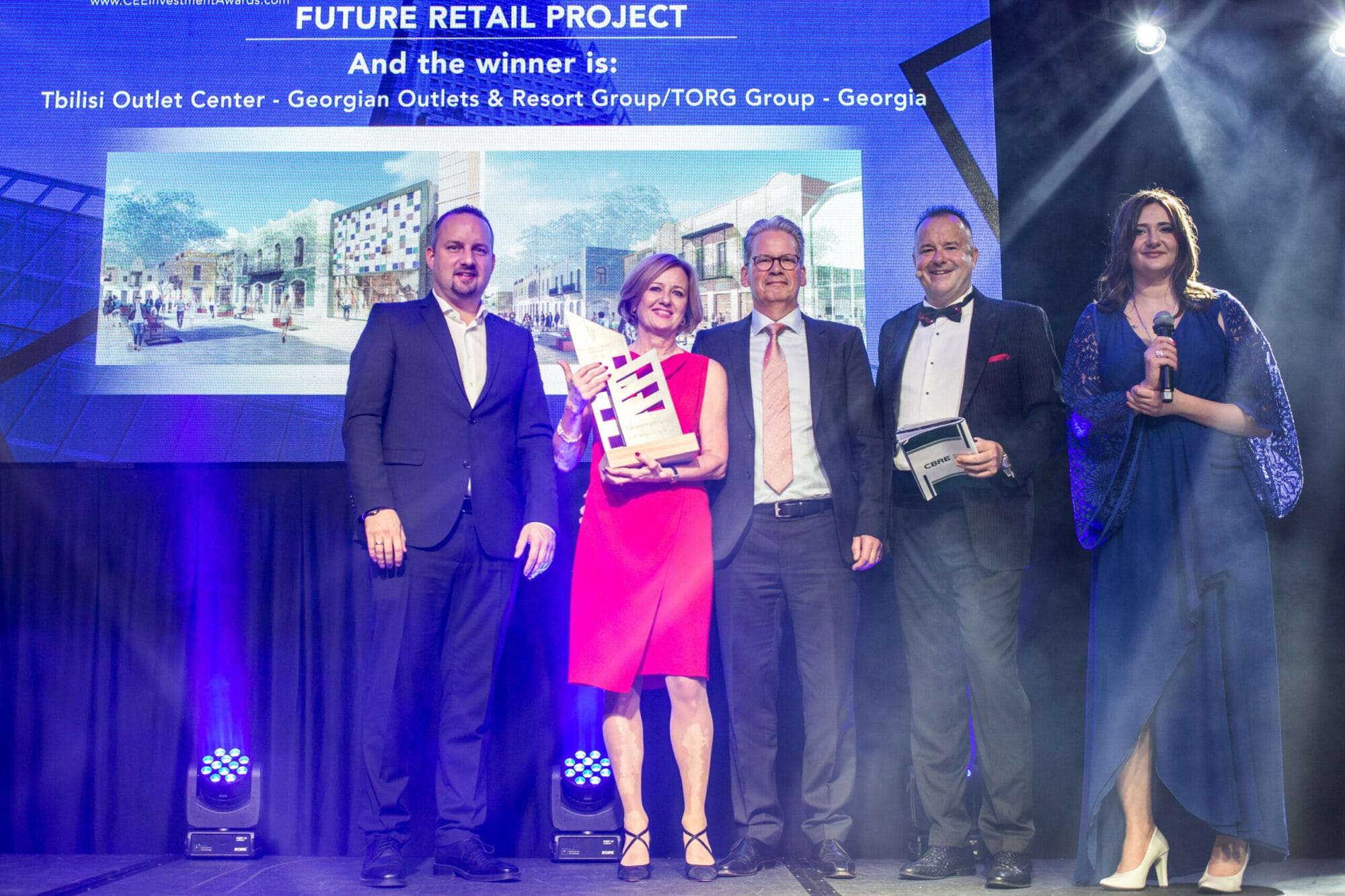 Georgia's first outlet project took home the award for Retail Project of the Future at the CEE Investment Awards in Warsaw.
Developed by Georgian Outlets & Resort Group (GORG) in close collaboration with TORG International, the team behind Tbilisi Outlet Village is thrilled to have been recognized as Retail Project of the Future at the 11th annual "EuropaProperty Investment Awards".
Robert van den Heuvel, Partner at TORG International, commented: "We feel hugely honoured to receive this prestigious award for Eastern Europe. Ever since we started working on Tbilisi Outlet Village almost three years ago, developing Tbilisi Outlet Village has been an amazing journey – a great team effort!  A big thank you goes to the relentless efforts of the local investors who have been giving us all their trust since day one. The response so far has been overwhelming. Never in my career have I seen a project leased over 50 percent at this early stage of construction including so many top brands. We are determined to make Tbilisi Outlet Village the #1 outlet in Eastern Europe."
Guram Tsanava, Founding Partner of GORG, added: "We are creating a completely new shopping experience for Georgia, one that has no analogues in the region, a fusion of tradition and modernity. It is an initiative that would not have been possible without the active support of the Government of Georgia for which we are grateful. It is also the fruition of a close collaboration between our team of outlet experts at TORG International, Barcelona based L35 – one of Europe's leading architectural firms who designed outlets like La Roca and Las Rozas in Spain –  London based Innesco who created its premium positioning and marketing material and our local construction team, the Domus Group."
The opening of Phase 1 of Tbilisi Outlet Village consisting of 12,500 sqm and 70 units, is well on track for autumn 2022. It will ultimately bring together a well-selected mix of brands on 20,000 sqm and 110 units. The official groundbreaking ceremony took place on 8th September 2021 and was hosted by the Government of Georgia in the presence of Prime Minister Irakli Garibashvili.
Tbilisi Outlet Village, a destination that is projected to create over 1,000 full and part-time jobs upon completion, will be a major contribution to the local economy engaging many local parties already well before opening.
It is expected to attract more than 7 million visitors in its first three years alone including a significant number of cross-border travellers from Azerbaijan, Armenia, Russia and Turkey. The outlet's location is particularly well suited – just 30 minutes south-east of the capital and directly on the busy E60 motorway. It benefits from a strong catchment made up of Tbilisi's 1.4 million resident population in a country of close to 4 million people.
Financed by the Domus Group with the support of TBC Bank, one of Georgia's leading banks, it is a strategically important project for Georgia's national economy, especially in the post-pandemic period.
Tbilisi Outlet Village will also play an important role in the growth of Georgian tourism offering a world-class shopping experience to international visitors attracted by the culture, history, cuisine or wine, thus extending their stay in Georgia and increasing tourist expenses. A strong gastronomic offer will be of particular focus given the country's food culture and its 8000-year-old history in winemaking.