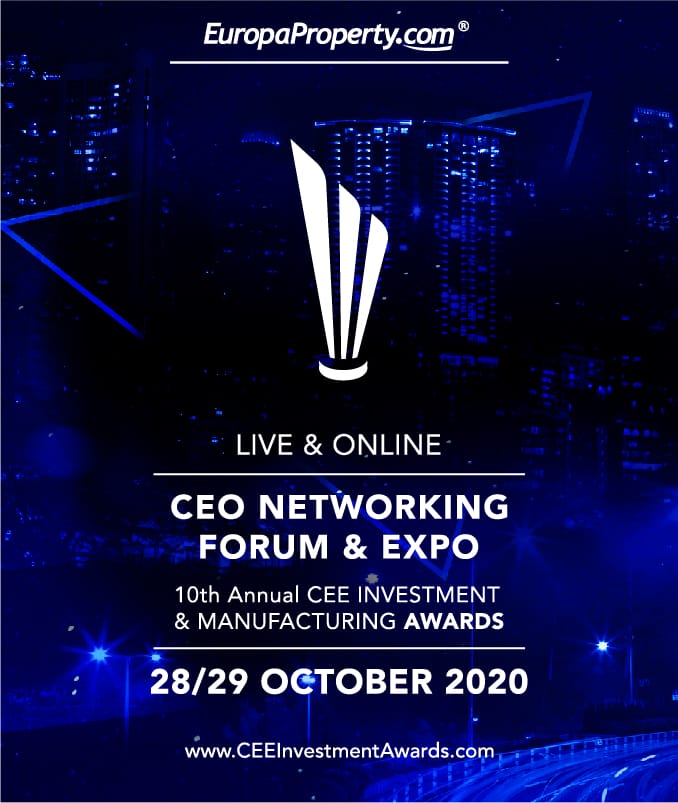 The short-list for the upcoming 10th annual EuropaProperty CEE Investment and Manufacturing Awards, the region's premier event dedicated to investment and development throughout the region, has been announced.
The CEE Investment and Manufacturing Awards and CEO Networking Forum 2020 will be the region's first virtual awards show celebrating investment and manufacturing excellence. The event will be broadcast via the latest online technology and digital know-how and will be streamed live on 28-29 October.
Bringing people together has never been more important and this year's CEE Investment Awards and CEO networking forum will create a unique opportunity for everyone to be entertained and share the experience of a highly coveted event, whilst learning about the developments and trends which will help shape the 'new normal' going forward.
The eventual winners will be awarded on October 29th 2020 live and online to some of the region's leading investors and real estate professionals.
THE INVESTMENT MARKET
COVID-19 has had a severe impact on our lives, our business and society at large. Today we are faced with the enormous challenge to recover from the impact of the pandemic. So now more than ever the importance of promoting and supporting the region as an attractive and safe investment destination is paramount.
Before this current crisis investment into CEE was registering substantial increases, and expectations were that investment volumes would reach and exceed previous record volumes, with all of CEE expected to perform strongly.
However, while the impact on the real economy has been dramatic, market experts are cautiously optimistic that the worst has already passed and that transaction activity could resume in the short term.
In terms of asset classes, logistics has been the clear winner so far and offices might see increased demand for more flex options that offer easy adaptations to increases or decreases in space usage, as well as offer diversification of portfolios. Across all asset classes, a flight to core and quality can be seen with value-add investments being the first to show repricing and discounts.
There are also plenty of non-core assets, both existing and planned, which can be a target for more opportunistic players looking for risk-adjusted yields. As well as plenty of interesting offers representing all property sectors within primary and secondary locations.
NOMINATIONS
Currently, the coronavirus pandemic is putting all businesses through unprecedented challenges. In this way, the CEE Investment Awards hopes to recognise and appreciate those who have remained faithful to their core values in the face of the crisis and unfavourable market situation.
The event is the only one of its kind with a real focus on the investment market with awards for top investors, investor/developers, bankers, projects and specialized service firms.
Nominations were made online and an independent jury carried out the process of deciding between the nominations for the award categories. The members of the jury are all experienced real estate professionals and are from every sector of the commercial real estate in the region.
The shortlisted finalists will have their entries scrutinized and the jury then votes to decide the winners on the night before the gala at a jury dinner held LIVE and ONLINE via the latest digital technology. The event auditor, "EY", oversees the voting process.
CEE Investment and Manufacturing Awards Semi-Finalists for 2020
M&A Awards
M&A Professional Service Provider
Drooms
FORDATA
Executive Club
Spaceflow
M&A Advisory Firm
Excalibur Capital
Maconis LLC
PwC
Vienna Capital Partners
M&A Insurance Firm
Liberty GTS
Marsh
M&A Deal
Griffin Real Estate and Ares Management acquired the Murapol Group
Madison International Realty acquired an equity stake in European Logistics Investment platform
Purchase of a majority stake in Echo Investment SA – WING
Purchase of a majority stake in Strabag PFS – WING
Manufacturing Awards
Logistic Services Provider
Boekestijn Transport Service
Eurogate Logistics
Frigo Logistics
Raben Logistics Polska
Automation & Robotics Supplier
EasyMile
Notinote
OnRobot
Rockwell Automation
Plant Manager
Tomasz Chodór – Sohbi Craft
Bogusław Dawiec – Polaris
Adam Holewa – SITECH
Krzysztof Skowroński – NORMA Group
Manufacturer of the Year
Alstom Konstal
Alumetal Group
Avon Operations
Flex Poland
Haizol
MTM Industries
Polaris Poland
SEEDiA
Sohbi Craft Poland
Company of the Year
City
Katowice
Łódź
Poznań
Professional Service Provider
Adecco Group
Bilfinger Tebodin
CHWMEG Inc.
Devire
Griffes
Hotel Professionals Advisory & Management
INVAO
Construction Firm
CFE Polska
Eiffage
Kajima
Facility Management Firm
Apleona HSG
General Property
Innovative Facility Management
Loredo RES
Law Firm
BSJP
CMS
Dentons
Eversheds Sutherland Wierzbowski
Kochański & Partners
Konieczny Wierzbicki
Mrowiec Fiałek and Partners
Rymarz Zdort
Penteris
Smolarek, Rogala, Caban
SSW Pragmatic Solutions
White & Case
Tax & Financial Adviser
ASB Group
MDDP
Penteris
TPA Poland
Serviced Offices Provider
BOBO Coworking
MindSpace
New Work Offices
Project Management Firm
APP-Projekt
Arcadis
Avison Young
CBRE
Cushman & Wakefield
Property Manager
Bogdan Shcherbyna – White Star Real Estate
Małgorzata Sęk – BNP Paribas Real Esta
Michał Chodkowski – Adgar
Piotr Kowańdy – CBRE
Wojciech Lichota – CBRE
Corporate Agency
Avison Young
CBRE
Colliers International
Cushman & Wakefield
JLL
Savills
Bank
Aareal Bank
Bank Pekao
Helaba
ING Bank
pbb Deutsche Pfandbriefbank
Santander Bank
Residential Developer
AFI Europe
Belgrade Waterfront
Echo Investment
Forte Partners
SPEEDWELL
Warehouse Developer
7R
DL Invest Group
Panattoni Europe
SEGRO Poland
Office Developer
AFI Europe
DL Invest Group
Echo Investment
Forte Partners
Ghelamco
Globe Trade Centre
HB Reavis
J&T Real Estate
Master Management Group
One United Properties
Passerinvest Group
Property Market Ltd
S+B Gruppe
Project of the Year
Residential Project
Central District 4 Elements – Forty Management – Romania
Foksal 13/15 – Ghelamco – Poland
TRIAMA Residence – Speedwell – Romania
Riverview – Vastint – Poland
Refurbishment Project
Elektrownia Powiśle – White Star Real Estate – Poland
Marynarska Business Point II – Bluehouse Capital – Poland
Warsaw Brewery – Echo Investment – Poland
Retail Project
Elektrownia Powiśle – White Star Real Estate – Poland
Galerija Belgrade – Belgrade Waterfront – Serbia
Galeria Chełm – Equilis/Acteeum – Poland
FASHION HOUSE Outlet Centre, St Petersburg – Fashion House Group – Russia
STOP SHOP Siedlce – IMMOFINANZ – Poland
Warehouse Project
Panattoni Amazon Lodz – Panattoni Europe – Poland
AQ Wiring Systems in SEGRO Logistics Park Łódz – SEGRO – Poland
DL Invest Park Psary – DL Invest – Poland
Office Project
Agora Tower – HB Reavis – Hungary
BUDOVA B – PasserInvest Group – Czech Republic
BudaPart GATE – Property Market Ltd – Hungary
DL Piano – DL Invest – Poland
Green Heart N3 – GTC – Serbia
Hi Piotrkowska – Master Management Group – Poland
One Tower – One United Properties – Romania
The Bridge 3 – Forte Partners – Romania
The Warsaw Hub – Ghelamco – Poland
Varso Place (Varso 1 & 2) – HB Reavis – Poland
Future Project    
BudaPart – Property Market – Hungary
DL Prime – DL Invest – Poland
One Floreasca  City – One United Properties – Romania
Widok Tower – S&B Gruppe – Poland
Investment Deal
Investment Deal €100 million plus
Adventum International acquired KöKi Terminal Shopping Center in Budapest
AFI Europe finalized the acquisition of NEPI's office portfolio in Romania
GLP acquisition of Goodman Group's CEE Logistics Portfolio
WING acquired Infopark's B, C and I office buildings
Invesco Real Estate sold Amazon, Boleslawiec in Lodz to Chinese Investment Company
Zeus Capital Management and Resolution Property acquired Floreasca Park
GLL Real Estate acquired a logistics portfolio in Krakow, Tri-City, and Warsaw, Poland
Panattoni sells 5 Logistics parks to Asian investor
Investment Deal – €50-€100 million
Cromwell European Real Estate Investment Trust acquired Business Garden Poznań from Vastint
Europa Capital sold Radisson Collection hotel in Warsaw to Wenaas Hotels Europe
GLL Real Estate acquired a last-mile logistics portfolio across seven regional cities in Poland
Panattoni sells two Łódź warehouses to a partnership between Kajima Properties Europe and Savills Investment Management
Savills Investment Management acquired a Central Distribution Centre leased to Leroy Merlin from Invesco Real Estate
Investment Deal €20-50 million
Eugene Investment & Securities acquired FENIKS in Warsaw
First Property Group acquired shares in Chałubińskiego 8 (CH8)
CBRE Global Investors acquired Neptun from GTC
Panattoni sells a distribution center near Wrocław to Savills Investment Management
Investor
Warehouse Investor
Bluehouse Capital
European Logistic Investment
GLL Real Estate Partners
Invesco Real Estate
Savills Investment Management
W.P. Carey
Office Investor
AFI Europe
Bluehouse Capital
First Property Group
Globalworth
WING
Investment Asset Management Firm
Adgar
Master Management
Savills Investment Management
Sierra Balmain
Zeus Capital Management Limited
Opportunistic Investor
Bluehouse Capital
Griffin Real Estate
Invesco Real Estate
WING
Value add Investor
Adventum International
Bluehouse Capital
Europa Capital
Invesco Real Estate
M7 Real Estate
Zeus Capital Management Limited
Core Investor
Kajima Properties Europe
GLL Real Estate Partners
Globalworth
IMMOFINANZ
Invesco Real Estate
Zeus Capital Management Limited
Overall Award
Professional of the Year
Bartłomiej Krawiecki – 7R
Beatrice Dumitrascu – One United Properties
Doron Klein – AFI Europe
Judit Kővári – Dentons
Mihai Paduroiu – One United Properties
Nebil Senman – Griffin Real Estate
Noah M. Steinberg – WING
Olof Karlsson – Radisson Hotel Group
Robert Dobrzycki – Panattoni Europe
Stephen Burke – Forte Partners
WELCOME TO THE BRAVE NEW WORLD OF ONLINE EVENTS
The CEO Networking Forum is dedicated to today's new look networking environment and delivers a professional and safe platform for deal-making, relationship building and one on one or group discussions on the evolving investment and development opportunities that are presenting themselves to the market.
These are unprecedented times and EuropaProperty is fast becoming a multidisciplinary enterprise with an array of mediums to help the industry move forward. Therefore, The CEO Networking platform is active and available to attendees and sponsors to utilise immediately, right the way up to the event days, and 6 months after the event.
Meet the most active investors, developers, bankers, asset managers and CRE professionals active or looking to enter the region. With over 600 directors – local, regional and international participants – this event is not to be missed.
The CEE Investment Awards and CEO Networking Forum represents a unique opportunity for the industry's key players to come together. Check out our sponsorship opportunities by visiting ceeinvestmentawards.com. This is an unmissable opportunity to showcase your company and its services to the real estate industry, making and strengthening business partnerships and ensuring unrivalled coverage for your company.