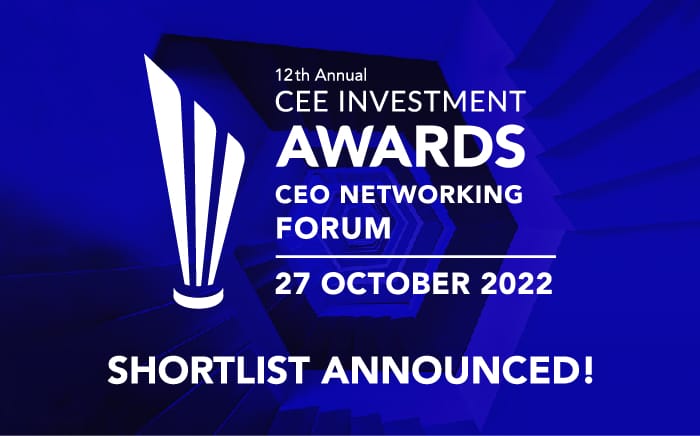 EuropaProperty is proud to host the 12th annual EuropaProperty CEE Investment Awards. This annual spectacle is one of the most important and valuable real estate events in Central and Eastern Europe. This year the forum and awards gala will be organised using traditional face-to-face meetings at the Intercontinental Hotel in Warsaw with an ONLINE component (via the CEO Networking Platform).
"We at EuropaProperty have become pioneers as well as innovators in the field of events. Bringing people together has never been more important and this year's CEE Investment Awards and CEO networking forum will create a unique opportunity for everyone to be entertained and share the experience of a highly coveted event, whilst learning about the developments and trends which will help shape the markets going forward. So, I'm very pleased that we have now established ourselves as the number one awards event organisers," commented event organiser and publisher of EuropaProperty, Craig Smith.
The event is the only one of its kind with a real focus on the investment market with awards for top investors, investors/developers, bankers, projects and specialized service firms.
In terms of asset classes, investors are drawn to the core / core+ sectors but the market may witness a new wave of capital-targeting opportunities occurring off the back of any signs of distress. Core and core+ real estate investors will continue to be attracted by high-specification office buildings in key CBD locations with low vacancy. Convenience retail and last-mile logistics assets in densely populated areas and high-specification logistics warehouses in markets with high or rising e-commerce penetration will continue to attract investors. Residential and multifamily assets in cities and regions with supply shortages will also remain key for investors.
Nominations were made online and an independent jury carried out the process of deciding between the nominations for the award categories. The jury members are all experienced real estate professionals and are from every sector of commercial real estate in the region.
The shortlisted finalists will have their entries scrutinized and the jury then votes to decide the winners on the night before the gala at a jury dinner held LIVE at the Intercontinental Hotel and ONLINE via the latest digital technology. The event auditor, "EY", oversees the voting process.
Semi-finalists for the CEE Investment Awards
COMPANY OF THE YEAR
E-commerce Company
eobuwie.pl
MODIVO
Zalando
Professional Service Provider
Arcadis
CHWMEG
Fordata
Howden M&A
PerfectCircle
Phytoremedia
R8 Technologies
SpaceFactory
Spaceflow
Architectural Firm
APA Via
APA Wojciechowski
A. Epstein and Sons International
Grupa 5 Architekci
Facility Management Company
AGIS Management Group
Atalian
General Property
Innovative Facility Management
Strabag Property and Facility Services
Serviced Office Provider
Loftmill (Rise.pl)
New Work Offices
Nooka Space
Qubes by HB Reavis
Construction Company
CFE
GEMO Development
Harden Construction
Kajima
Title Insurance Provider
DUAL Asset
First European Title Insurance
Marsh
Law Firm
Dentons
DECISIVE Worldwide
Eversheds Sutherland
Greenberg Traurig Grzesiak
Konieczny Wierzbicki
Miller Canfield
Noerr
Penteris
Rymarz Zdort
Smolarek, Rogala, Caban (SRC Law)
Sołtysiński, Kawecki & Szlęzak
Viroux & Partners
Tax and Financial Advisor
Advicero Nexia
ALTO
ASB Group
MDDP
TPA Poland and Baker Tilly TPA
Project Management Company
2M Project Management
Arcadis
APP-Projekt
Avison Young
Cushman & Wakefield
Gleeds Polska
Property Management Company
Cushman & Wakefield
Master Management Group
WeCare
Logistics Company
Boekestijn Transport Service
DHL Supply Chain
Frigo Logistics
Kuehne + Nagel
Manufacturer
Alumetal Group
DMDmodular
LYNKA
Nooka Space
Toyota Motor Group
Corporate Agency
ARC Capital Markets
Avison Young
AXI Immo
Biuro Na Miarę
Cushman & Wakefield
Savills
Bank
Aareal Bank AG
pbb Deutsche Pfandbriefbank
Helaba
Pekao Bank
Santander Bank
Retail Developer
Acteeum
Master Management Group
Trei Real Estate
WING
Residential Developer
Asbud Group
Cordia
Corwin
Echo Investment
OKAM Capital
Property Market
Trei Real Estate
Zeitgeist Asset Management
Hotel Developer
Julius Meinl Living
Puro Hotel Development
UBM Development
WING
Warehouse Developer
7R
Besico Real Estate
CTP
HelloParks
Panattoni
WING
Office Developer                           
Capital Park Group
Cavatina
Echo Investment
Ghelamco
Globe Trade Centre
HB Reavis
Horizon Development
Property Market
S+B Gruppe
TriGranit
City
Katowice
Kraków
Łódź
Poznań
PROJECT OF THE YEAR
Future Project
BTS Flex/Flextronics International – Panattoni – Poland
Drucianka Campus – Liebrecht & wooD – Poland
Palac Dunaj – Zeitgeist Asset Management – Czech Republic
Poznan Spec – Blackbrook Capital – Poland
Modena by Cordia – Cordia – Poland
Ostróda Power Center – Acteeum – Poland
Towarowa Towers – Asbud Group – Poland
Żerań (62 ha) – OKAM Capital – Poland
Hotel Project
Hotel Mercure Katowice Centrum – UBM Development – Poland
Mercure Białystok hotel – Accor – Poland
Radisson Red Gdańsk – Radisson Hotel Group – Poland
The Julius Prague – Julius Meinl Living – Czech Republic
Warehouse Project
BTS Action – Panattoni – Poland
Fortress Logistics Park Bydgoszcz hall E – Fortress REIT – Poland
GLP Warsaw III Logistics Centre – GLP – Poland
HelloParks Fot Budapest North – FT1 – HelloParks – Hungary
Liepkalnis Industrial Park (stage IV) – Sirin Development – Lithuania
Żabka BTS Radzymin – Żabka Property/7R – Poland
Refurbishment/Retrofit Project
Crowne Plaza Budapest – Granit Polus – Hungary
MMG Ciechanów refurbishment – Master Management Group – Poland
Norblin Factory – Capital Park Group – Poland
Święta Jadwiga Residence – Orpea – Poland
The Hop – Syrena Real Estate – Poland
The Julius Prague – Julius Meinl Living – Czech Republic
Residential Project
Fuzja Łódź – phase 1 – Echo Investment – Poland
INSPIRE – OKAM Capital – Poland
Home by Zeitgeist – Górskiego – Zeitgeist Asset Management – Poland
Modular BTR project in Gdańsk – Kajima Properties – Poland
Słoneczne Tarasy (Stage I) – Solida Capital Europe – Poland
Office Project
Central Point – Immobel – Poland
Forest – HB Reavis – Poland
Global Office Park A1 and A2 – Cavatina – Poland
LIXA C – Yareal Polska – Poland
MidPoint71 – Echo Investment – Poland
Millennium Gardens – Revetas Capital – Hungary
Pillar – GTC – Hungary
SKYSAWA – PHN – Poland
Widok Towers – S+B Gruppe – Poland
INVESTMENT DEAL OF THE YEAR
Investment Deal €20-50 million
REICO acquires BWI's research and development centre
Solida Capital Europe acquired West 4 Business Hub
W. P. Carey acquired 4 manufacturing facilities in Germany and the Czech Republic
Investment Deal €50-€100 million
Adventum acquires Sky Tower in Wroclaw
BIG acquires two shopping centers in Poland
CTP acquired land and projects from 7R in Poland
ELI sells logistics project in Tychy
Macquarie Asset Management acquired Żabka BTS Radzymin
Union Investment acquired the commercial parts of Szervita Square Building
W. P. Carey acquired seven DIY retail stores in Poland
Investment Deal €100 million plus
Adventum Group acquired a portfolio of 18 retail parks anchored by TESCO in Hungary/Czech Republic
CBRE Investment Management acquired Hillwood Portfolio in Poland
ELI sells Nexus portfolio to CBRE Investment Management
FREY acquired Park Handlowy Matarnia from Ingka Centres
Griffin Capital Partners (advised EPP) on the sale of 70% share of Towarowa 22 to AFI Europe
MidPoint71 in Wrocław acquired by Trigea Real Estate Fund
Panattoni sells five fully-let logistics assets to a North American investment manager
Revetas Capital disposes of remaining assets of Papa office portfolio in Prague
Savills Investment Management acquires A2 Warsaw Park logistics from Invesco Real Estate
Skanska sells Nowy Rynek D in Poznan to East Nine Capital
Investment Deal €500 million plus
Ghelamco Poland sold Warsaw Hub to Google
Xior acquires a portfolio of PBSA assets operated by Basecamp
INVESTOR OF THE YEAR
PRS Investor
Griffin Capital Partners
Heimstaden
Kajima Properties
Solida Capital Europe
Zeitgeist AM
Retail Investor
Adventum Group
BIG Shopping Centers
Falcon Investment Management
FREY
Revetas Capital
W. P. Carey
Warehouse Investor
Accolade
Blackbrook Capital
CBRE Investment Management
Fortress REIT Limited
Griffin Capital Partners
IAD Investments
Macquaire Asset Management
Savills Investment Management
W. P. Carey
Office Investor
Adventum Group
Ceskomoravska Nemovitostni
Eastnine Capital
Groupama Gan REIM
Union Investment
Solida Capital Europe
Investment Asset Management Firm
CBRE Investment Management
IAD Investments
Macquarie Asset Management
Revetas Capital
Savills Investment Management
Solida Capital Europe
Zeitgeist Asset Management
Opportunistic
Blackbrook Capital
Griffin Capital Partners
Orpea
Revetas Capital
Solida Capital Europe
Value add/core+
Adventum Group
East Capital Group
Revetas Capital
Solida Capital Europe
WING
Core
Adventum Group
Macquarie Asset Management
CBRE Investment Management
Ceskomoravska Nemovitostni
Fortress REIT Limited
Groupama Gan REIM
IAD Investments
Julius Meinl Living
OVERALL AWARD
Rising Star Awards
*Professional
Eric Assimakopoulos – Revetas Capital
Marek Foryński – Panattoni
Arvi Luoma – Blackbrook Capital
Kinga Nowakowska – Capital Park
Andrzej Potyra – Żabka Property Fund
Mihály Schrancz – Property Market
Jacek Wesołowski – Trei Real Estate Poland
*Professional nominations are still being accepted