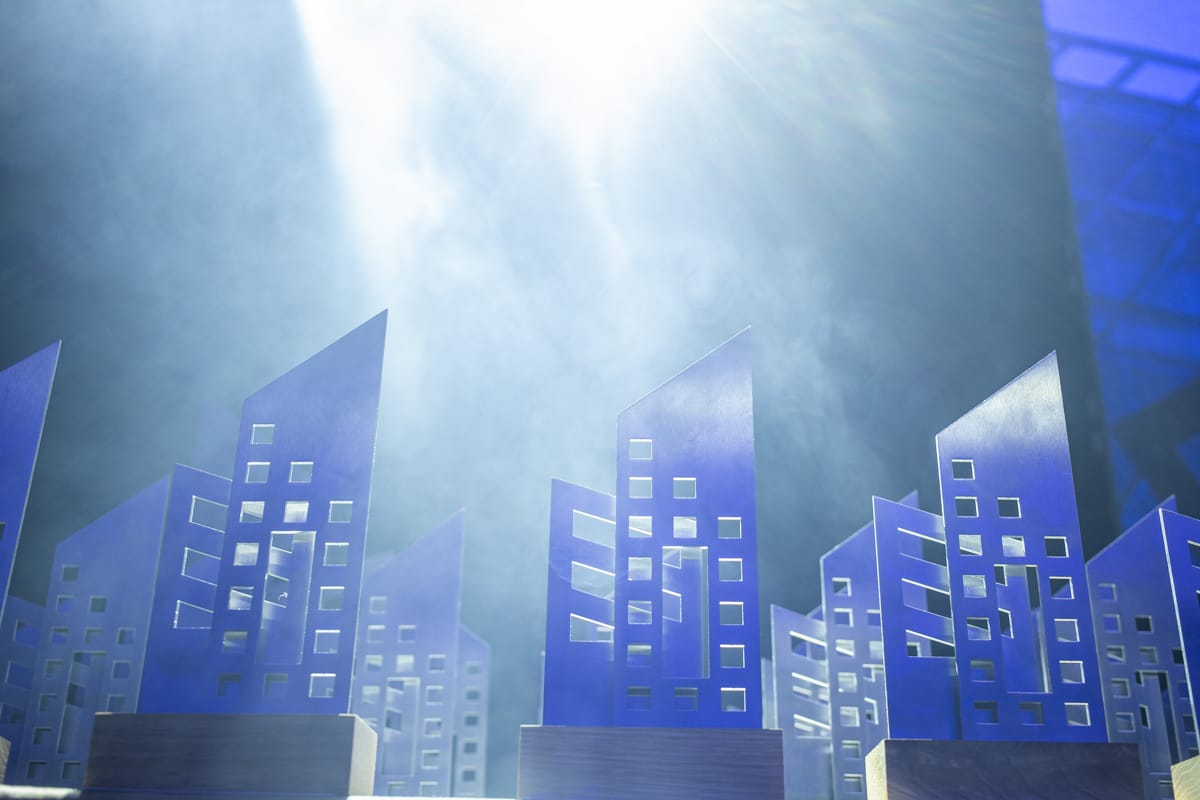 We're thrilled to unveil the highly anticipated 13th annual EuropaProperty CEE Investment Awards shortlist. This prestigious event celebrates outstanding achievements in investment, development, and sustainability across the region. The winners will be honoured on October 26th, 2023, at the InterContinental Hotel in Warsaw, with the region's foremost investment and real estate professionals.
The CEE Investment Awards spotlight the dynamic opportunities for investment and sustainable development emerging in the regional market. This year's CEE Investment Awards presentation will showcase top-performing investors and companies in the commercial real estate sector and leading sustainable projects.
The Investor of the Year awards will pay tribute to excellence in the CEE region's investment arena. These accolades will be bestowed upon companies and individuals who have exhibited exceptional performance over the past year. They will also recognize investment transactions that have consistently yielded positive outcomes, signalling promising prospects for the future.
EuropaProperty is honoured to host the 13th edition of the EuropaProperty CEE Investment Awards. This annual extravaganza is one of the most pivotal and valuable real estate gatherings in Central and Eastern Europe. This year, the forum and awards gala will feature both in-person meetings at the Intercontinental Hotel in Warsaw and an ONLINE component accessible via the CEO Networking Platform.
Craig Smith, event organizer and publisher of EuropaProperty, remarked, "The CEE Investment Awards and CEO networking forum provide a unique platform for attendees to engage, be inspired, and gain insights into the developments and trends shaping our markets. I am incredibly proud that we've established ourselves as the premier awards event organizers."
This event stands out as the only one of its kind with a distinct emphasis on the investment market, recognizing top investors, investors/developers, bankers, projects, and specialized service firms.
Nominations were submitted online, and an impartial jury, comprising seasoned real estate professionals from various sectors of the commercial real estate industry in the region, meticulously reviewed the submissions.
The shortlisted finalists will undergo a thorough evaluation, culminating in the jury's final decisions at a pre-gala dinner at the Intercontinental Hotel. The event's auditor, "EY," oversees the entire voting process.
Shortlisted Nominations for 2023
Company of the Year
Professional Service Provider
Closer Music
Coverpoint Foodservice Consulting
Dual Asset
JWA
REassurance
Renters
WiredScore
Architectural Firm
Apa Via
APA Wojciechowski
Epstein
Schwitzke Górski
Workplace
Logistic Services Provider
DHL Supply Chain
Frigo Logistics
Rohlig Suus Logistics
Facility Management Company
Agis Management Group
CPI FM
IFM Polska FM
Strabag PFS
Proptech Innovation Provider
Chainels
Fordata
Hyperin
PlanRadar
R8 Technologies
workcloud24
Project Management Company
2M Project Management
APP-Projekt
Cushman & Wakefield
Gleeds
Trebbi
Construction Company
CUBESPACE
CFE Polska
Doraco
Harden Construction
Kajima
Value4Real
Property Management Company
Blue Assets
Cushman & Wakefield
Master Management Group
Multi
Sierra Balmain
WeCARE/Liebrecht & wooD
Tax and Financial Advisor
ASB Group
Dentons
MDDP
TPA Poland
Serviced Offices Provider
Mindspace
New Work Offices
Qubes by HB Reavis
Law Firm
Dentons
Drzewiecki, Tomaszek & Wspólnicy
Greenberg Traurig
Kochanski & Partners
Konieczny Wierzbicki
Miller Canfield
Linklaters
Rymarz Zdort Maruta
Smolarek, Rogala, Caban
Viroux & Partners
Agency
Avison Young
AXI Immo
Cushman & Wakefield
Perfect Places Premium Properties
Savills
Triflow
Bank
Aareal Bank
pbb Deutsche Pfandbriefbank
Erste Group
Helaba
Santander Bank
PRS/PBSA/Residential Developer
AFI Europe
Asbud Group
Echo Investment
Kajima Properties
LivUp
Resi4Rent
Ronson Development
Solida Capital Europe
Stocznia Cesarska Development
Trei Real Estate
Zeitgeist Asset Management
Warehouse/Industrial Developer
7R
CTP
GLP
HelloParks
Panattoni
Retail Developer
Echo Investment
Futureal Development
LCP Properties
Liebrecht & wooD Group
NEPI Rockcastle
Trei Real Estate
City
Katowice
Lublin
Łódź
Poznań
Project of the Year
Retail Project
M Park Świdnik – LCP Properties – Poland
Promenada Craiova – NEPI Rockcastle – Romania
Vendo Park in Zambrów – Trei Real Estate/Patron Capital – Poland
Warehouse/Industrial Project
Automated Distribution Centre for Amazon – Accolade – Czech Republic
BTS Factory for Reynaers Aluminium – Panattoni – Poland
Fortress Logistics Park Bydgoszcz, hall E – Fortress Europe – Poland
GLP Kraków Airport Logistics Centre – GLP – Poland
HelloParks Páty Budapest West PT1 – HelloParks – Hungary
SpacePlus – Speedwell – Romania
PRS/PBSA/Residential Development
LivUp – Zaczarowane Koło 2 – LivUp – Poland
Shed Living Krakow – 1 Asset Management – Poland
STUDENT DEPOT Krakow – Echo Investment – Poland
The Ivy – Speedwell – Romania
Ursus Centralny – Ronson Development – Poland
Warsaw Wilanowska – Resi4Rent – Poland
Retrofit/Refurbishment Project
Arup Warsaw Office – Arup – Poland
Centrum Orląt – Adventum – Poland
EMKA Koszalin expansion – LCP Properties – Poland
Galeria Młociny – EPP – Poland
Palac Dunaj – Zeitgeist Asset Management – Czech Republic
Office Project/Developer
Corvin Innovation Campus – Futureal – Hungary
Craft – Ghelamco – Poland
GTC X – GTC – Serbia
Infinity – Avestus Real Estate – Poland
Ocean Office Park B – Cavatina – Poland
Port7 – Skanska – Czech Republic
Varso Tower – HB Reavis – Poland
Future PRS/PBSA Project
HORIZONTAI – Releven – Lithuania
Spokojny Mokotów – YIT – Poland
Wenedow PBSA – Solida Capital Europe – Poland
Future Project
7R Park Wrocław West II – 7R – Poland
CityZen – Speedwell – Romania
Fortress Logistics Park Zabrze – Fortress Europe – Poland
Imperial Shipyard revitalization – Stocznia Cesarska Development – Poland
NEXT COLLECTION – Next Group – Georgia
Nova Królikarnia – Ronson Development – Poland
The Bridge – Ghelamco – Poland
The Form – Lincoln Property Company – Poland
Towarowa Towers – Asbud Group – Poland
Investment Deal of the Year
Investment Deal under €50 million
Atenor sold RoseVille office building in Budapest to a Hungarian fund
7R and DWS closed the transaction for the transfer of ownership of 7R Park Poznań East II
Echo Investment sold Moje Miejsce II in Warsaw to Trigea
Ghelamco sold retail parks Prochownia in Łomianki and Plac Volga in Warsaw to LCP Properties
GTC sold Forest Offices Debrecen in Hungary
Mitiska REIM acquired Europa Centralna Shopping Center
REICO ČS Nemovitostní sold Rohan Business Centre building to Fio Real Estate Fund
ZDR Investments acquired Galeria Bakar shopping park in Rijeka, Croatia
Investment Deal €50 – €100 million
Adventum Group acquired Wola Retro in Warsaw
G City acquires Arkady Pankrac Shopping Centre in Prague
Globalworth sold Warta Tower to a company from Cornerstone Investment Management
Investment Deal over €100 million 
City Logistics Wroclaw II acquired by Czech investor Trigea
G City Europe sells Atrium Palac Pardubice shopping centre in Prague
NEPI Rockcastle acquired Forum Gdansk
NREP acquires controlling stake in 7R
Panattoni sold Wrocław Campus logistics park to P3 Logistic Parks
Investor of the Year
PRS/PBSA/Residential Investor
1 Asset Management
AFI Europe
Catella Poland
Griffin Capital Partners
IAD Investments
Kajima Europe
Resi4Rent
Solida Capital Europe
Zeitgeist Asset Management
Retail Investor
Griffin Capital Partners
LCP Properties
NEPI Rockcastle
W.P. Carey
Warehouse Investor
Accolade
Fortress Europe
Griffin Capital Partners
IAD Investments
Newport Logistics Fund
NREP
Savills Investment Management
Trigea
Office Investor
Adventum Group
Catella Poland
Cornerstone Investment Management
Globalworth
Indotek
REINO Partners
Trigea
Investment Asset Management Firm
Accolade
Catella Poland
CBRE Investment Management
IAD Investments
REICO IS ČS
REINO Partners
Savills Investment Management
Solida Capital Europe
Joint Venture
1 Asset Management
AFI Europe
Griffin Capital Partners
Kajima Properties Europe
Partners Group & Peakside Capital
WING
Added Value/Core +
Accolade
AFI Europe
DWS
Fortress Europe
Griffin Capital Partners
LCP Properties
LivUp
NEPI Rockcastle
WING
Core
Accolade
Adventum Group
CBRE Investment Management
DWS
IAD Investments
LCP Properties
LivUp
NEPI Rockcastle
Overall Awards
Rising Star – nominations still being accepted
Adam Nowodworski – Homfi and Private House Brokers
Agata Połeć – Reino Partners
Agnieszka Tatarczak – Arup
Aleksandra Markiewicz – Knight Frank
Aleksandra Stusińska – Capital Park
Brian Kober – LCP Properties
Cezary Kusznierski – Globalworth
Dagmara Kowalik – The Digital Bunch
Daniel Gałkowski – Neo Swiat
Edyta Majos  – Project Manager
Elin Molander – Grand Real Estate
Gabriela Słaby – ConTrust Communication
Izabela Głowacka – Perfect Places
Igor Łysiuk – Workplace Studio
Joanna Małucka – Vision Express
Kamil Kowalewski – Walter Herz
Karolina Maja Załachowska – BPI Real Estate
Kamil Majewski – Greenberg Traurig
Katarzyna Nobis – Prologis
Joao Saracho de Almeida – Solida Capital Europe
Łukasz Toczek – Griffin Capital Partners
Maciej Zięba – Homfi
Magdalena Witka – Dentons
Magdalena Gosk – BPI Real Estate
Marcin Popowski – Sierra Balmain
Martyna Szatkowska – TPA Group
Michał Górny – CBRE
Michał Lorbiecki – Tychy City Hall
Patryk Czesak – Invesco Real Estate
Piotr Brzozowicz – Unibail-Rodamco
Przemysław Chimczak-Bratkowski – ThinkCo
Tomasz Węglarz – Biuro Na Miarę
Professional – nominations still being accepted
Agnieszka Stankiewicz – Greenberg Traurig
Anna Duchowska – Invesco Real Estate
Barbara Topolska – CPI Property Group
Bartłomiej Hofman – P3 Logistics Parks
Chris Zeuner – 7R
Jacek Wesołowski – Trei Real Estate Poland
James Turner – Sierra Balmain Asset Management
Łucja Rosiak – Perfect Places
Maciej Dyjas – Griffin Capital Partners
Magdalena Kowalewska – LCP Properties
Nicklas Lindberg – Echo Investment
Robert Dobrzycki – Panattoni
Rüdiger Dany – NEPI Rockcastle